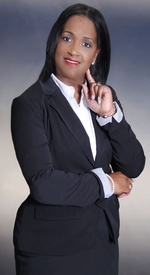 Text BuywithChiNow to 85377 for my Mobile Business Card.
My name is Chiquita S. Williams-Fountain a.k.a. Chi Fountain Chi (pronounced Kai or Ki) and I am a native of Pensacola, FL. I was raised on the northeast side of Pensacola and I am very familiar with this area; however, being born and raised here I am also very familiar with the surrounding areas and attractions as well.  Northwest Florida is a wonderful and thriving community to live, raise a family, and enjoy the beautiful local attractions such as our historical downtown Pensacola area and our beautiful white beaches.
I am newly licensed; however, I have a very diverse background in education and experience where I ascertained several degrees at the Pensacola State College and the University of West Florida (UWF), which includes a masters degree in Educational Leadership with an emphasis in Education Training and Management Subspecialty at the UWF. I strive to continue to learn a wealth of new information to keep me growing and thriving to be among the top sales agents throughout my new career as a realtor.  I come with 21 years of experience from the State of Florida where I served various roles with the latter two years being an Operation Review Specialist.  This position required an extensive knowledge and background dealing with a diverse group of clients, contract providers, and other professional organizations. My tenure with the State of Florida also required conducting quality assurance, contract management, auditing, and strong written and verbal skills.  My educational endeavors highlight my dedication and commitment to accomplishing my goals.  I am willing to continue my education endeavors and stay in tune with new and cutting-edge information regarding real estate so I am capable and able to serve my customers in excellence with the highest degree of professionalism through my knowledge, skills, and abilities.