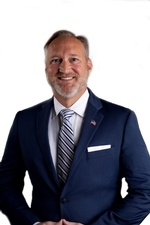 850-477-3948
850-475-5333 fax
315-408-3998 cell phone

ELLIDL9@gmail.com
7139 N. 9th Avenue
Pensacola Florida, 32504
Receive Email Alerts from Me
Text the850realestatepro to 85377 for my Mobile Business Card.
My passion for serving can be traced back to when I was a child growing up next to an Army base in upstate New York and my strong desire to be a Soldier in the United States Army.  While accomplishing my dream career as a Soldier which extended three decades across many US states and continents overseas and climbing the ranks from being a brand new enlisted Soldier to a senior commissioned officer, I decided that Pensacola, Florida would be the final stop of my world tour where I would retire from the Army and establish roots while becoming an integral part of the community.
After a three-year stint as a senior corporate executive here in Pensacola, I decided to follow another passion, real estate.  As a licensed real estate sales associate here in Pensacola under the EXIT Realty brokerage, I combine my passions for serving others and being a real estate professional by primarily focusing on providing top-notch professional residential real estate services to military members, veterans, federal government employees and their families in the Pensacola area.
I also specialize in providing probate and divorce directed real estate services characterized by professionalism, compassionate and confidential services to my clients.
Having a family of my own and having made several moves during my military career, I certainly understand the challenges associated with relocating and feel that my desire to assist military members, veterans, federal government employees and their families combined with my personal experience, professional qualifications and dedicated support provided by the team at EXIT Realty, make me the right person to help make relocation a smooth and seamless transition involving buying, selling or leasing a home.